I wanted to enjoy the last days of summer and how else to enjoy them, if not by going to the sea. Initially, me and my fiance wanted to go to a beach in Romania, but the weather was bad, so we got in the car and went to Greece. We didn't book a hotel or set a route plan. Our budget was 270 $, without the benzene.
We had no idea of where we wanted to go. We just wanted to get in Greece and decide along the way about the place in which we wanted to settle.
We left home around 10 pm and at 11:30 we were already at the border in Bulgary. In 8 hours we were supposed to arrive in Greece and the plan was to see the sunrise on a beach. But we already began to feel asleep. And the road didn't help us at all because after we left Ruse (Bulgary), we went only on dark streets, only serpentines and trees everywhere we looked.
At one point, we had to stop because we simply couldn't feel our legs. I didn't even know the name of the village, but as I stepped outside I noticed that the house near where we stopped had on its door a kind of a poster that had a picture of a man and from what I understood, he had died in 2016 in February. 
There was no living soul around, just a cat who didn't look at all intimidated by our presence. Although I already began to feel restless, I tried to lie down in the car and take some sleep. I didn't manage because through my head were passing the most shocking scenes from horror movies.
Later, on one of those dark national roads, we stopped in a stationary area. Exactly 2 minutes later, another car came and stopped just behind us. I tried to sleep, but I immediately jumped at a sound and in no less than 30 seconds and we were again on the road.
Why the hell did somebody stop in the middle of nowhere just behind our car?
So, after several attempts to stay awake, we decided at around 3 o'clock to finally have a sweet sleep, near a gas station.
We both tucked in the back seat and fell asleep instantly. We woke up just in time for sunrise.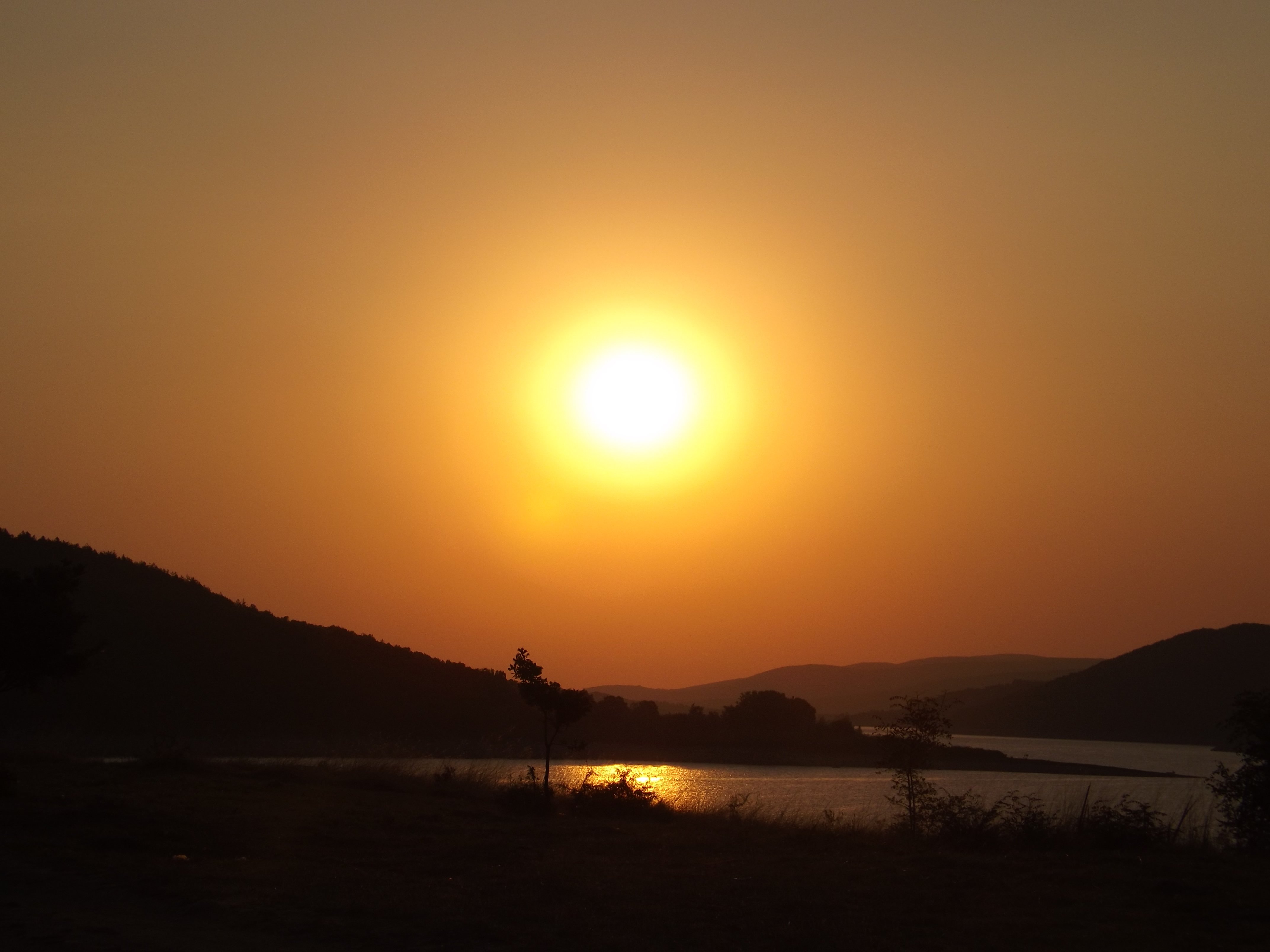 And a beautiful coincidence was that we happened to pass near a lake, so we did some great pictures.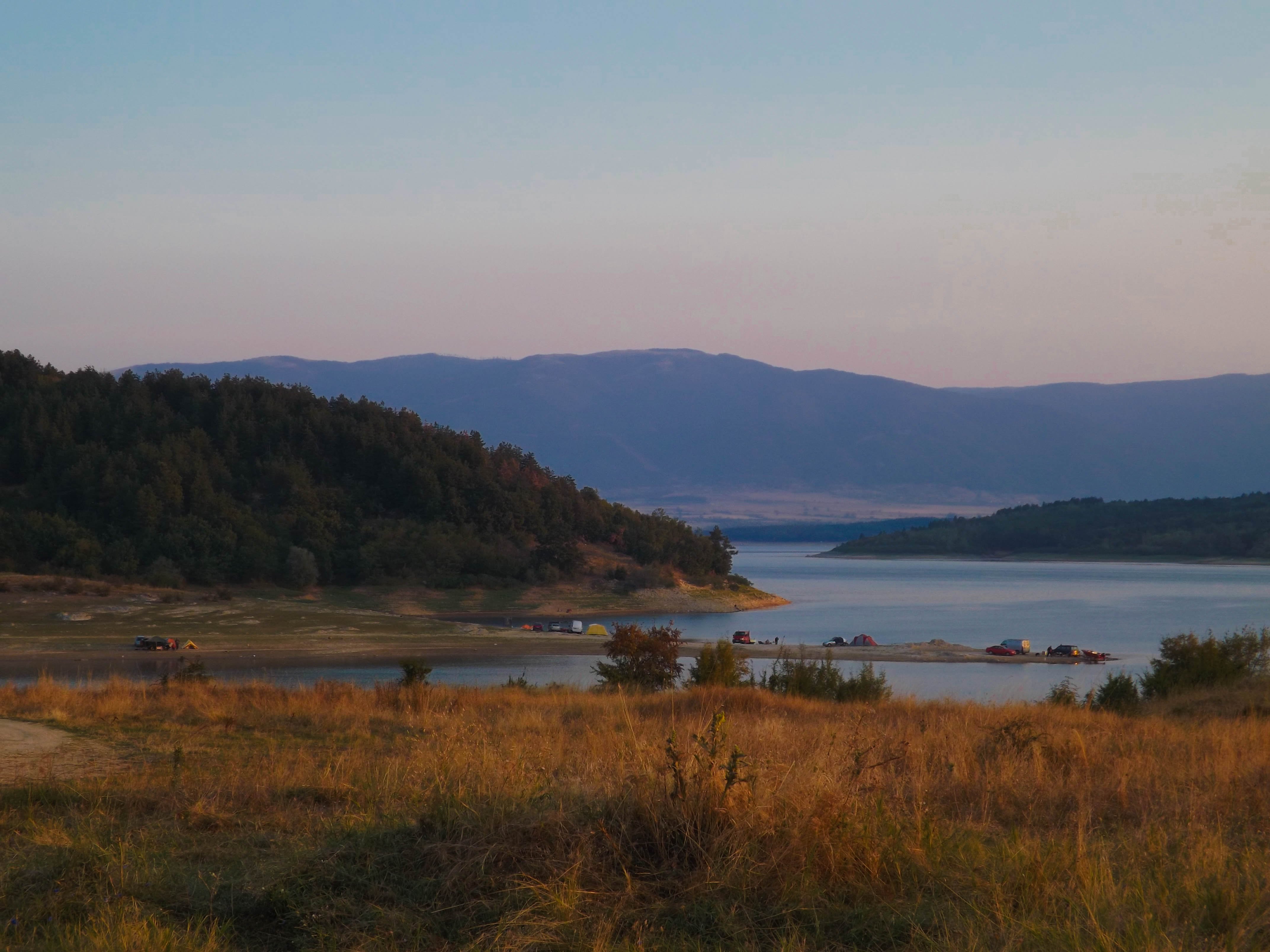 Later we stopped to get a cup of coffee and we were ready to start our trip, with loud music and good vibes. We were very excited about our new adventure. We drove without stops till the border, trying to earn the lost time.
But guess what: we queued for 2 hours. It is seen a little in the pictures, but in fact, the queue was much longer. Even so, we maintained our positive state and tried to have as much fun as possible.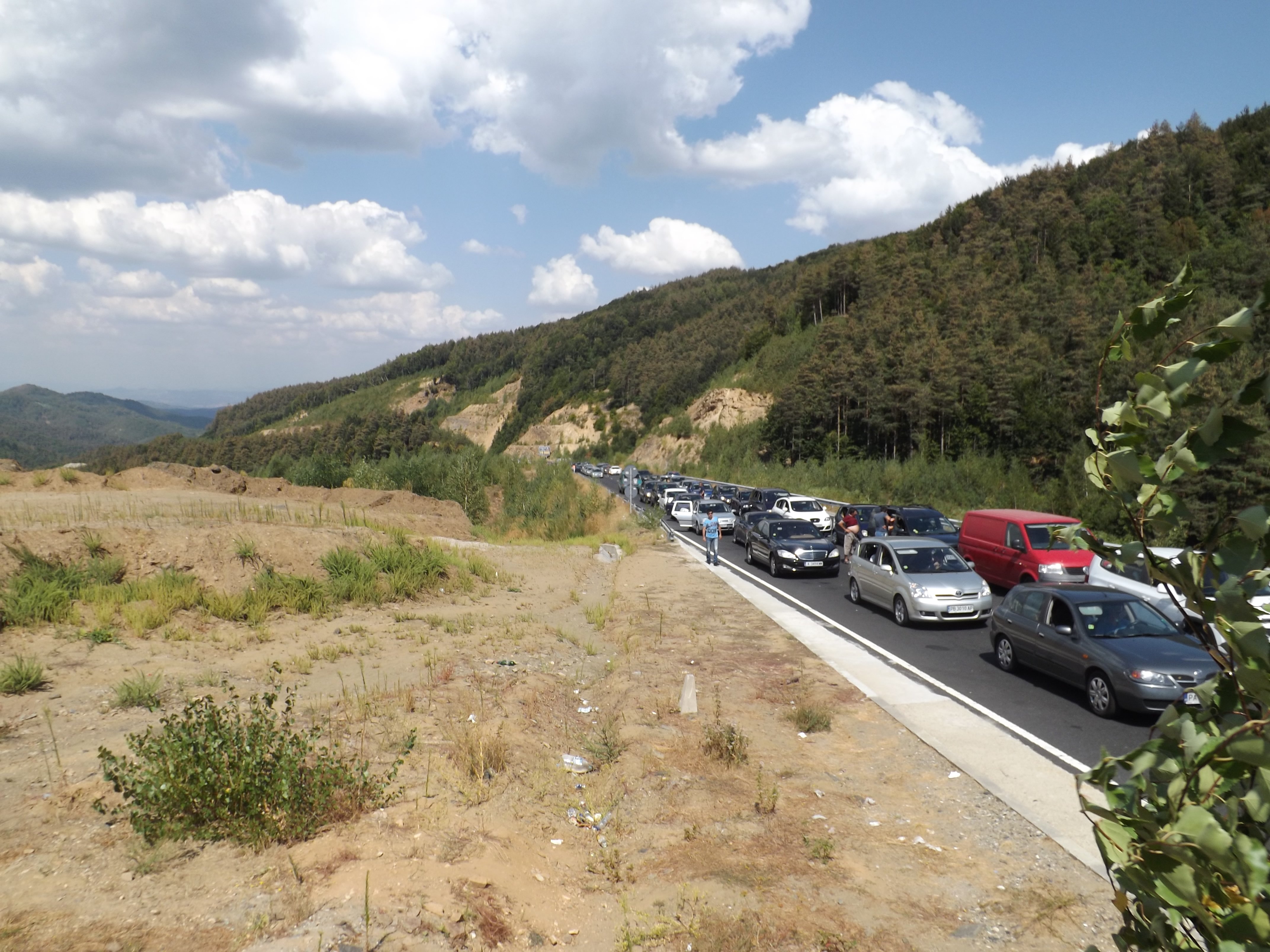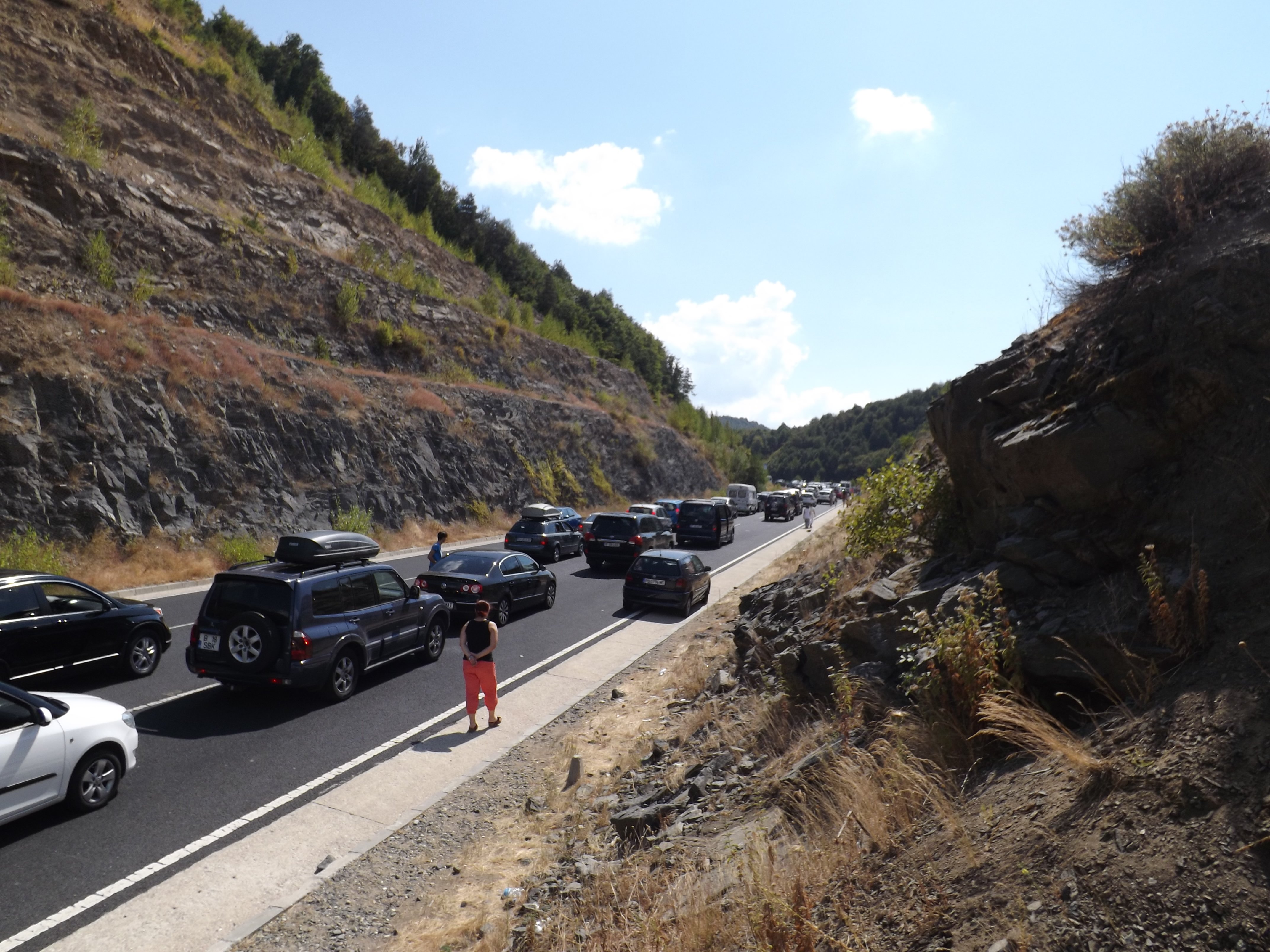 When we arrived in Greece, we got lost. Yeah seriously. It is very hard to handle the streets in Greece, especially if you don't have a map, if you have no phone battery and your power bank has also died. The car charger was the only one that helped us a little, just enough to use GPS. But we had no idea of the name of the next location, we just wanted to get to the sea.
So we finally stopped at a small shop in a village and asked in English what direction to take to get to the nearest beach. The seller did not understand, so we started to imitate in the air the move of swimming and eventually he understood. He wrote the city and the kilometers on one sheet: Fanari. A very nice gentleman and a big help, I must say.
On our way to Fanari, we came across a wonderful location. We didn't realize from the start what it was, it just looked nice, so we stopped. We found out later that it was The Monastery of Vatopedi. Surrounded by water, at the entrance was a long wooden bridge, and inside were benches, placed close to the water.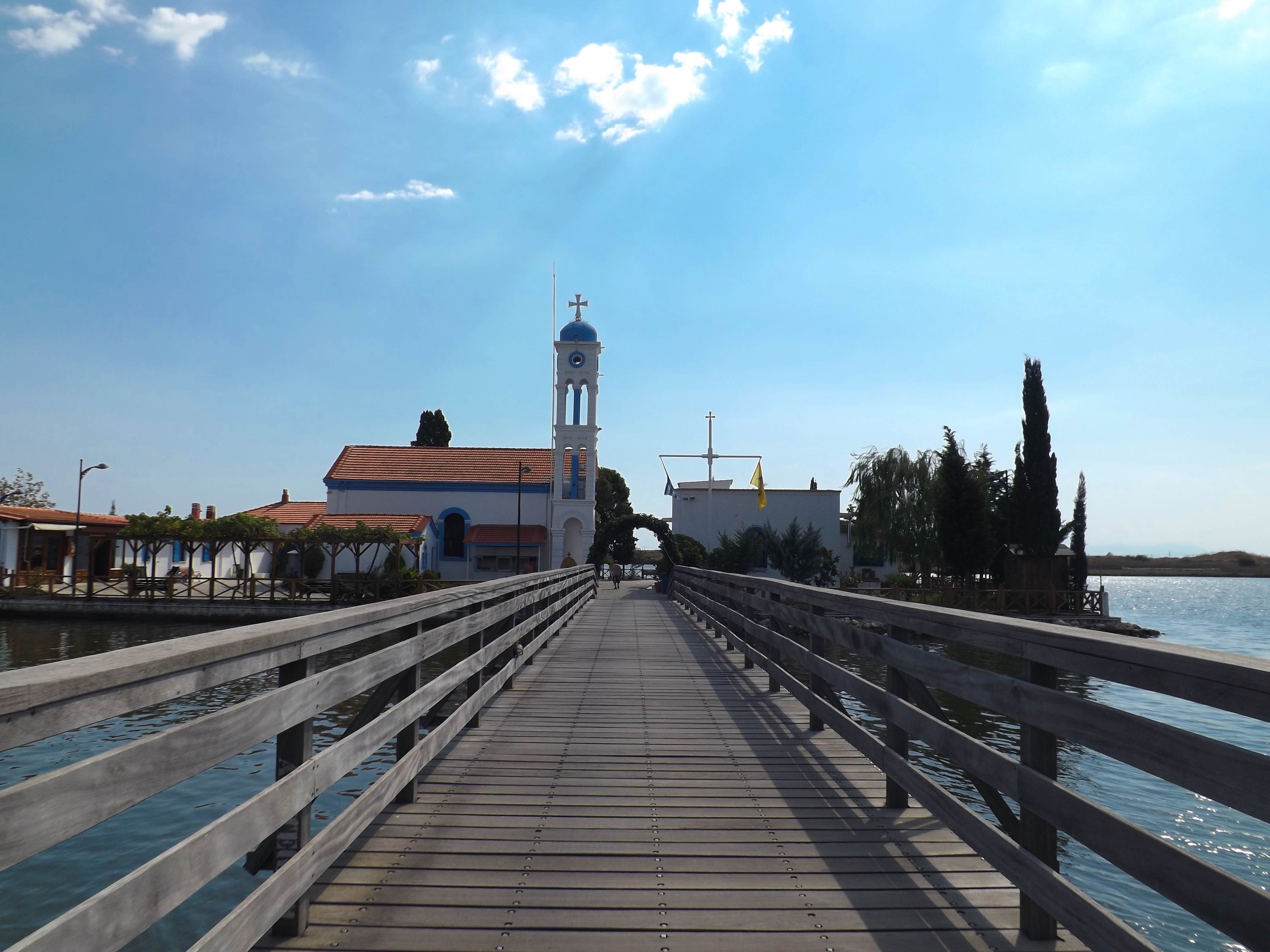 It was really quiet. We could hear the wind and the birds singing. We sat on a bench, while we gathered new strengths. It was a soothing experience. A very nice place for a monastery.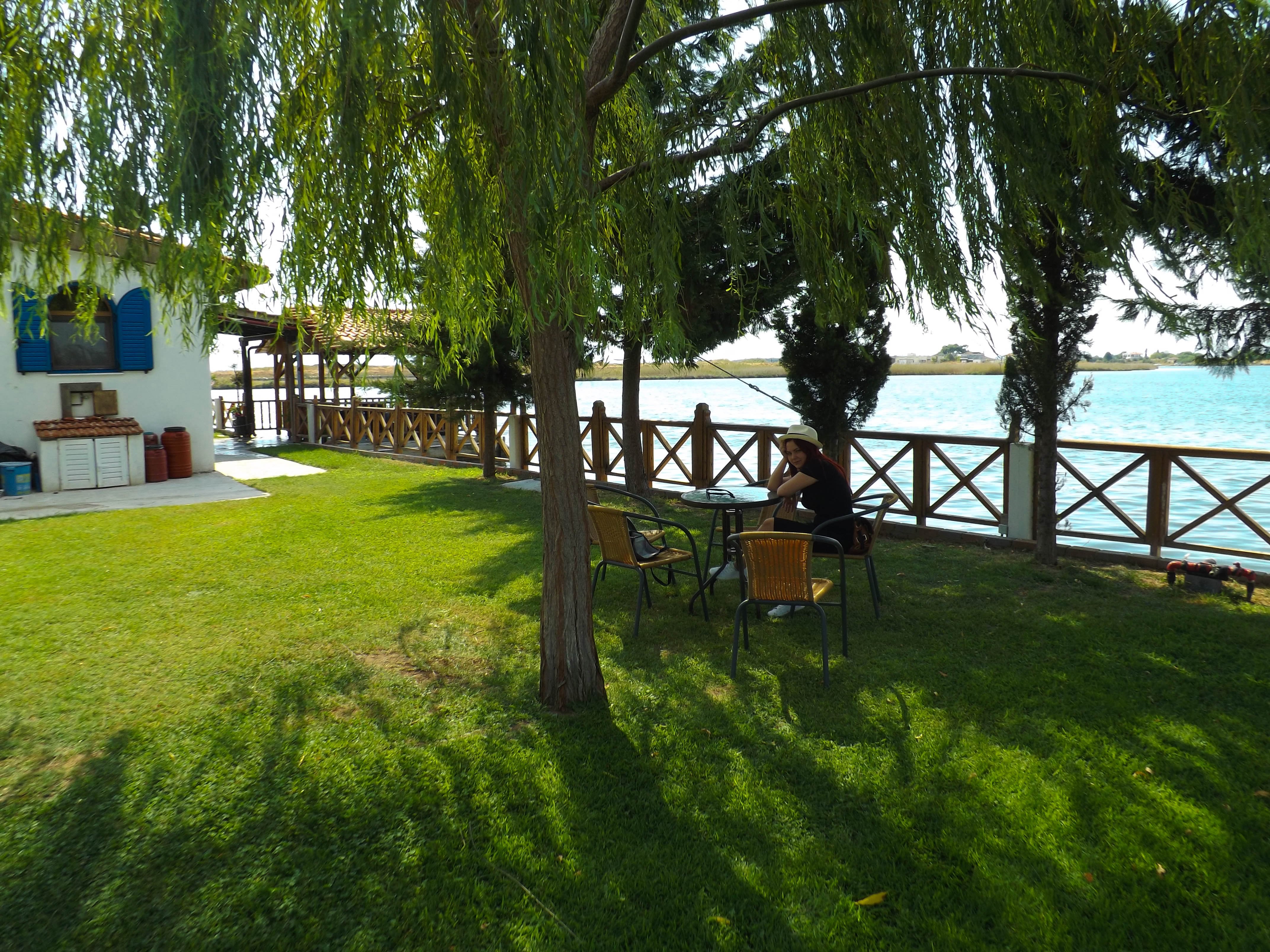 Just when we wanted to leave, a gentleman waved to the car and asked us something in Greek. I said that I only speak English and somehow we managed to understand each other. It looks like he was also going to Fanari and he asked us if we could take him with us. Very cheerful and friendly. : D I felt happy that I could help someone that day.
Fanari is a small town, beautiful, elegant, a place where you feel like being part of a movie. We went straight to look for a place to eat, knowing already that we wanted to try gyros. We sat on a terrace by the sea, where you could admire the view and the totally carefree seagulls flying around us.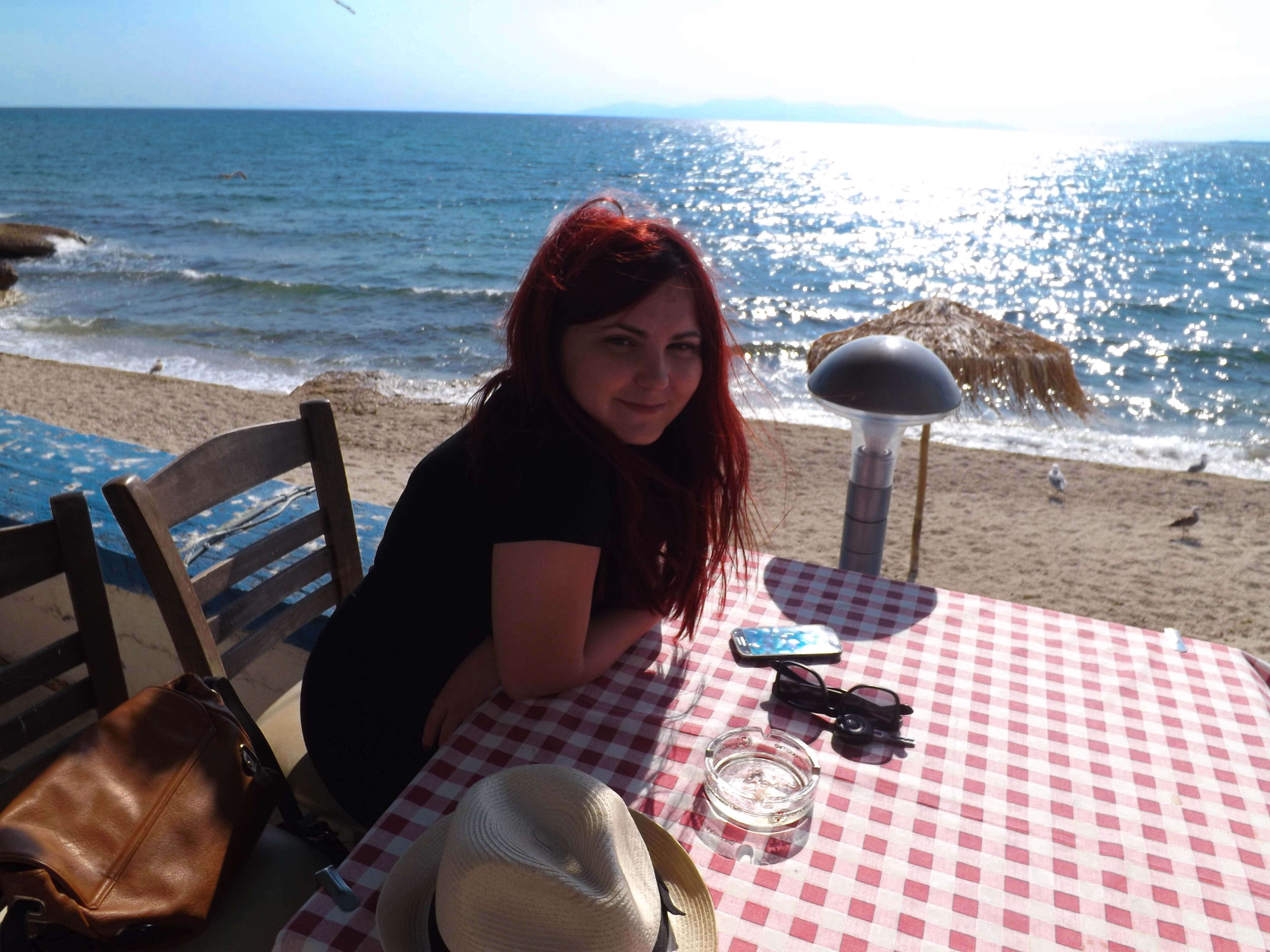 It was the first time I ate gyros, and it was very good. Even if they seem very similar, Gyros doesn't have the same taste as Kebab.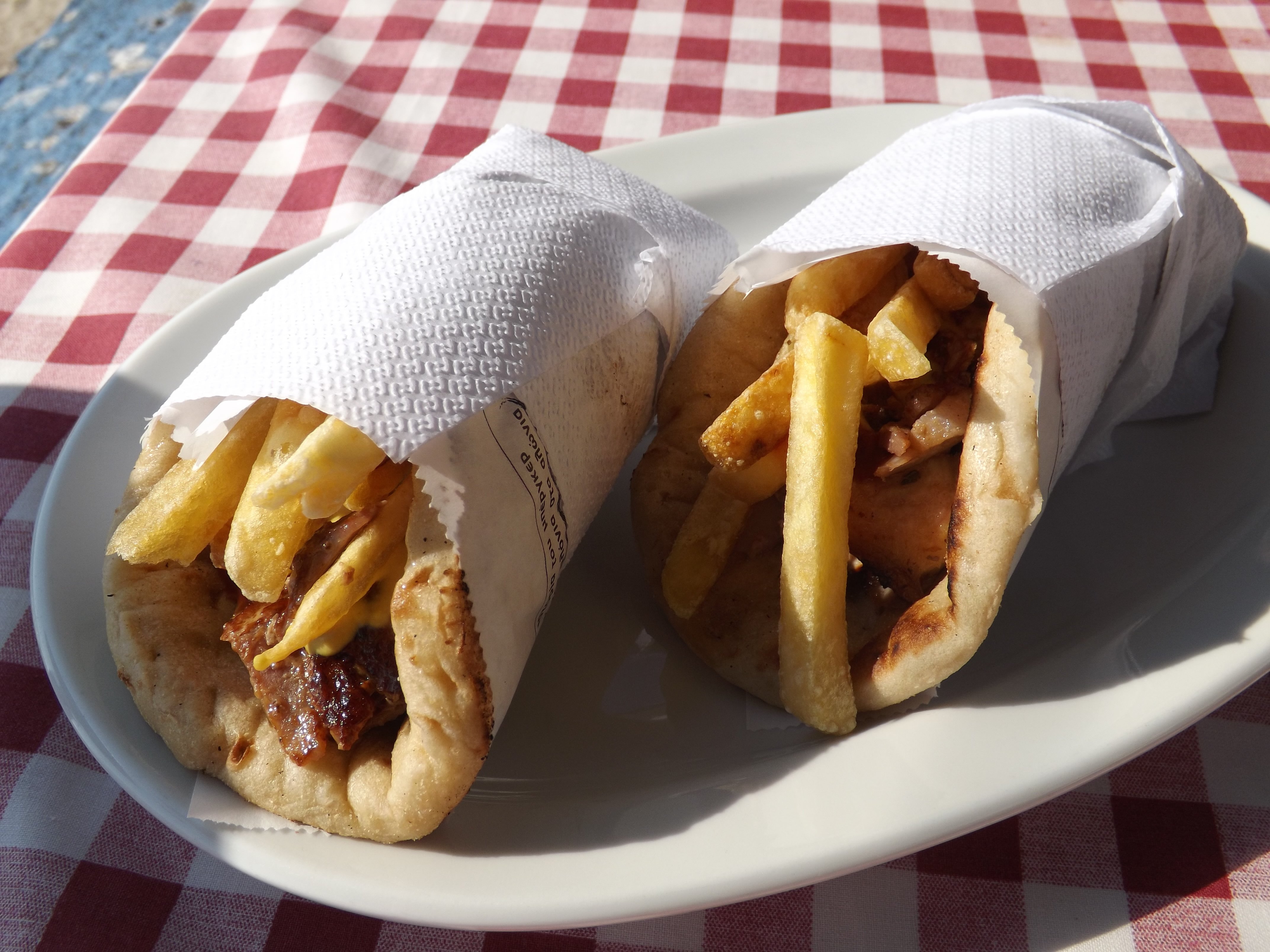 Meanwhile, we had to find an accommodation. On the way to the terrace, we asked at a few places, but we didn't find a spot anywhere, so I asked our waiter if he knew of some place to sleep. He really tried to help us and he went to ask all of his neighbors. We were not lucky.
We went and stayed on the beach until the sun began to fade . I had straightened hair before, but since I cannot help not to swim and play in the water, my hair became frizzy again. Eh, a small price for great fun.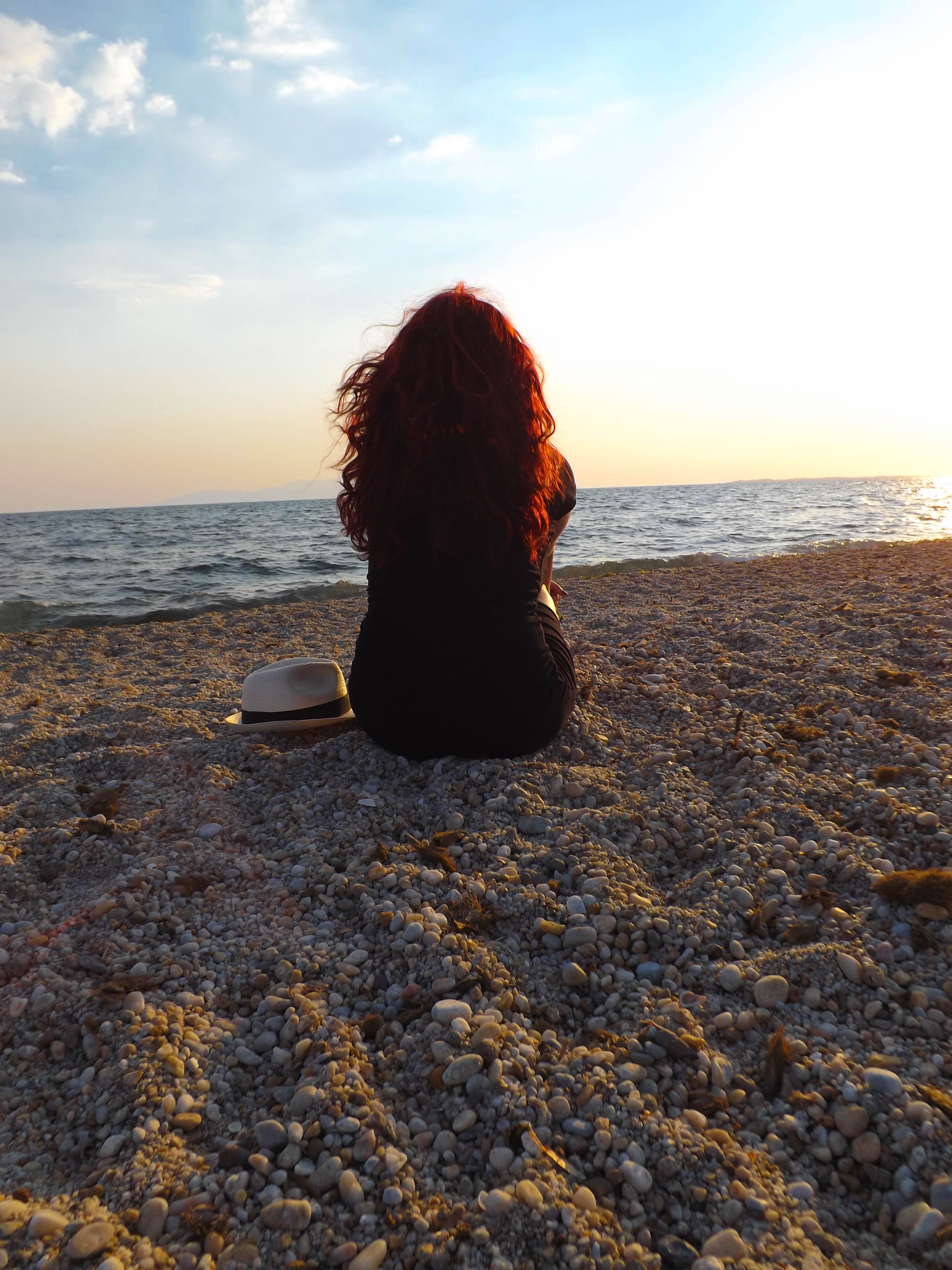 We decided that our next stop will be Kavala , as weren't decided whether to go or not the next day on the island Thassos.  The problem was that even there we could not find any accommodation on our budget.
Instead, we found a great fast food.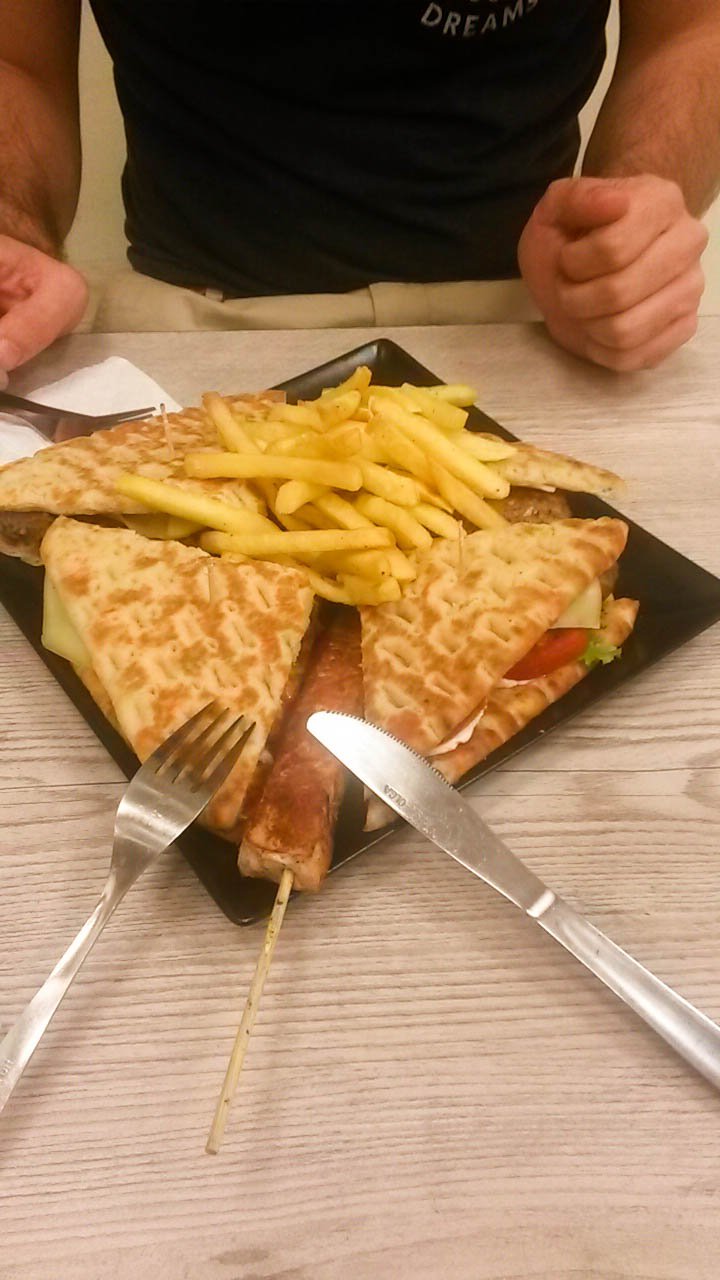 With only 5 euros we received a big portion for 2 persons. We've got a plate of something I have no idea what it was named and a Souflaki, as I was curious to see what it tastes like . It was extraordinarily delicious and nourishing .
I was also delighted at how nice the waiters behaved with us . More than likely, this fast food certainly was not meant for the tourists. We found it on a street crowded with locals and the menu was written only in Greek.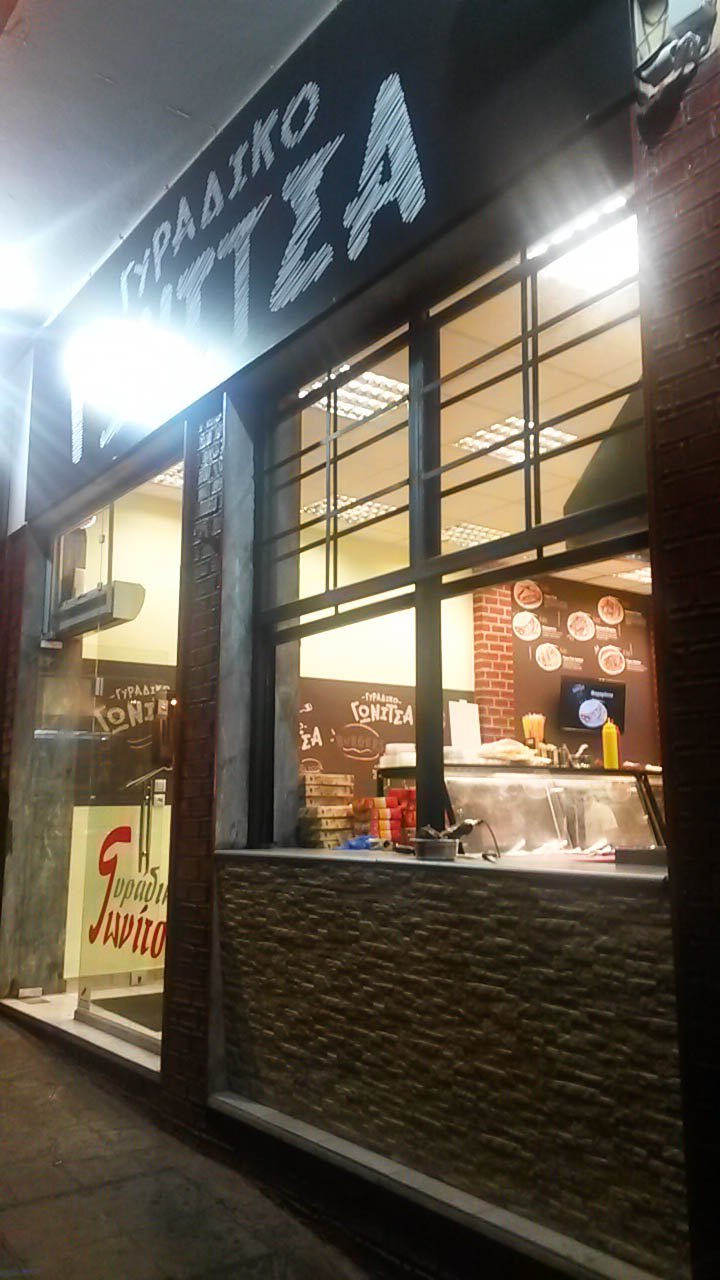 We then went for a walk around the town , we did not go far because we were tired and soon we returned to our car. We decided to go to a high altitude of the city and find a shelter, where to sleep.
It hadn't passed more than 10 minutes, when two men appeared with some lanterns. They were detectives, disguised in citizens. Lucky for us , one of them , probably at a higher position , knew English. They started the questions : who are we , what are we doing there, why we are in Greece , why are we in Kavala etc.
After a long serie of questions- answers, I learned that the place was frequented by malevolent and I remembered that exactly before they came, 3 cars and 2 motorcycles hastily passed, one after another . Perhaps these detectives were following them and we happened to be in the wrong place .
I had a shock . They scared the hell out of me . Eventually they got our papers and told us to follow them to the police station . The first time I had been to a police station . There they checked our papers and put us to write some basic information about us on a sheet . And in about half an hour they left us to go and they even led us to the port , a safe place in where to spend the night .
After this, we couldn't stop laughing. Really? How could this happen to us?
And so it was our first day in Greece. The adventure does not end here , even if the next day we found accommodation . Tomorrow I will tell you about how our trip went further.