After a deep sleep, I awoke to find out that outside was cloudy and the wind was blowing strong. The night before we had decided to stay one more night in Afytos, so we had already paid for accommodation for the next night.
Like all other events didn't upset me as much as I was annoyed that it was cloudy. We had come to Greece especially for the beach and just when we had a day dedicated entirely to it, the sun wouldn't appear on the sky.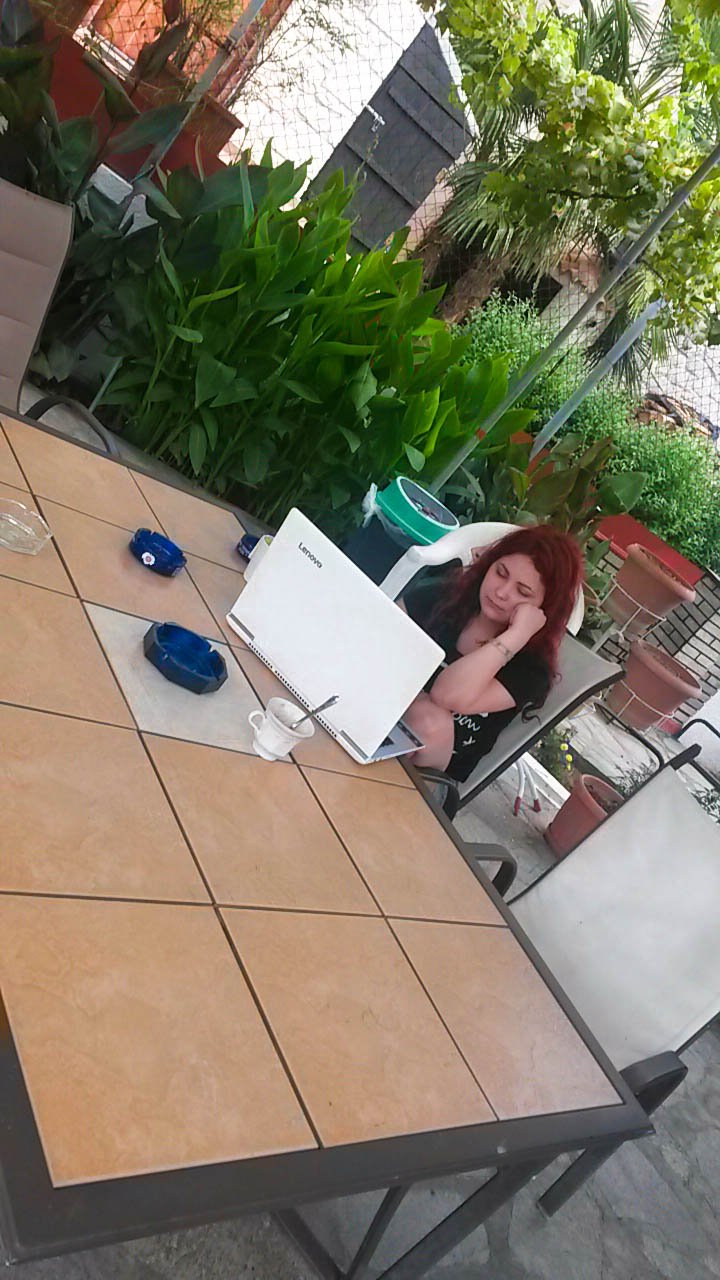 I took my laptop and tried to find out if in other areas of Greece the weather was better, but the Internet said no, saying that all Greece is covered by clouds. Pfff what a bad luck. At least that's how I thought until I managed to finish the coffee. Then I became slightly more optimistic and we went to the beach, hoping in my heart that the sun will show itself. What else to do? I was still at the seaside.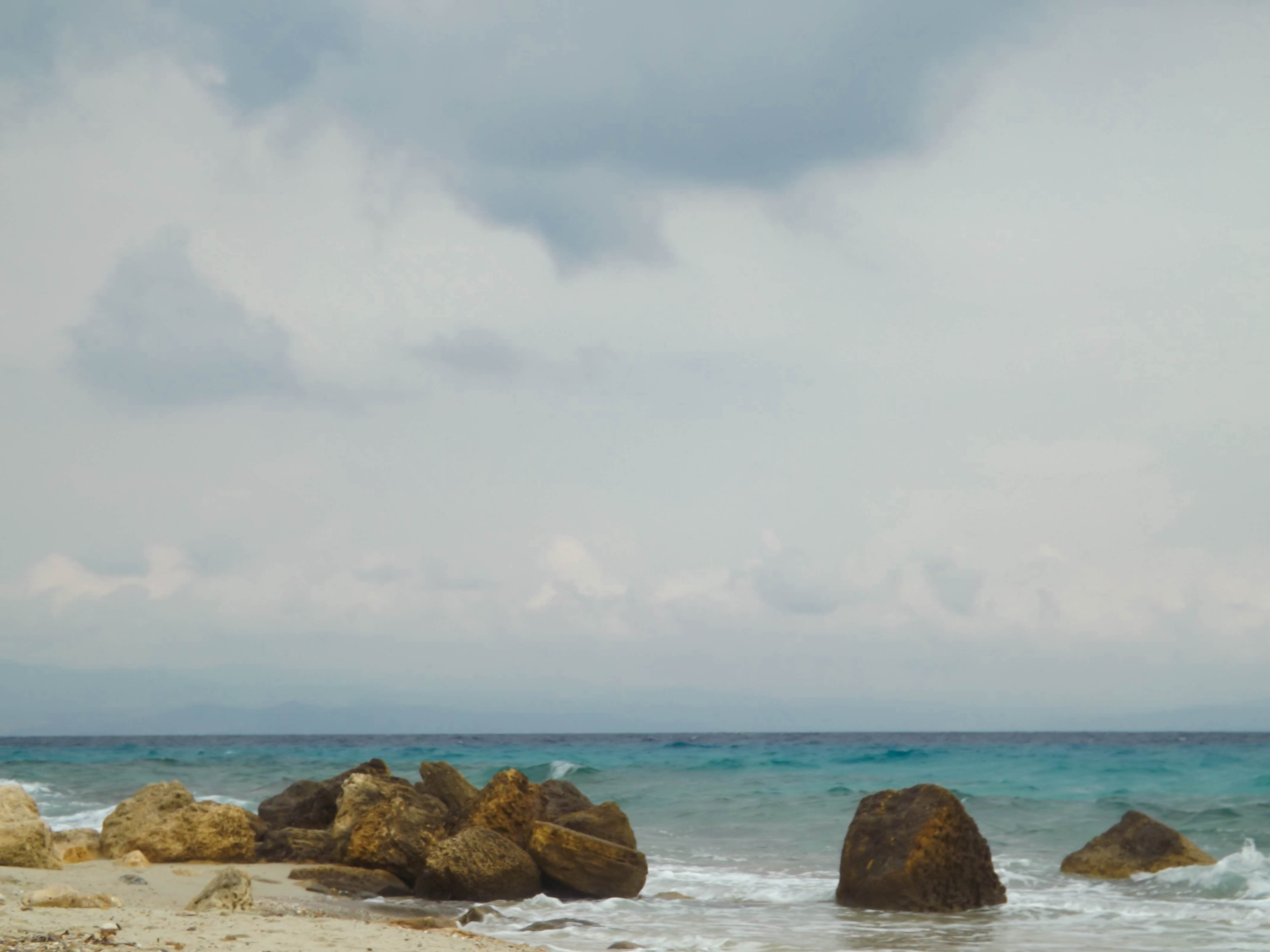 On the beach, we found a few people who probably, like me, were trying to attract the sun. The sea was agitated and seemed really cool. Initially, I didn't have the guts to get in the water or to give up my clothes.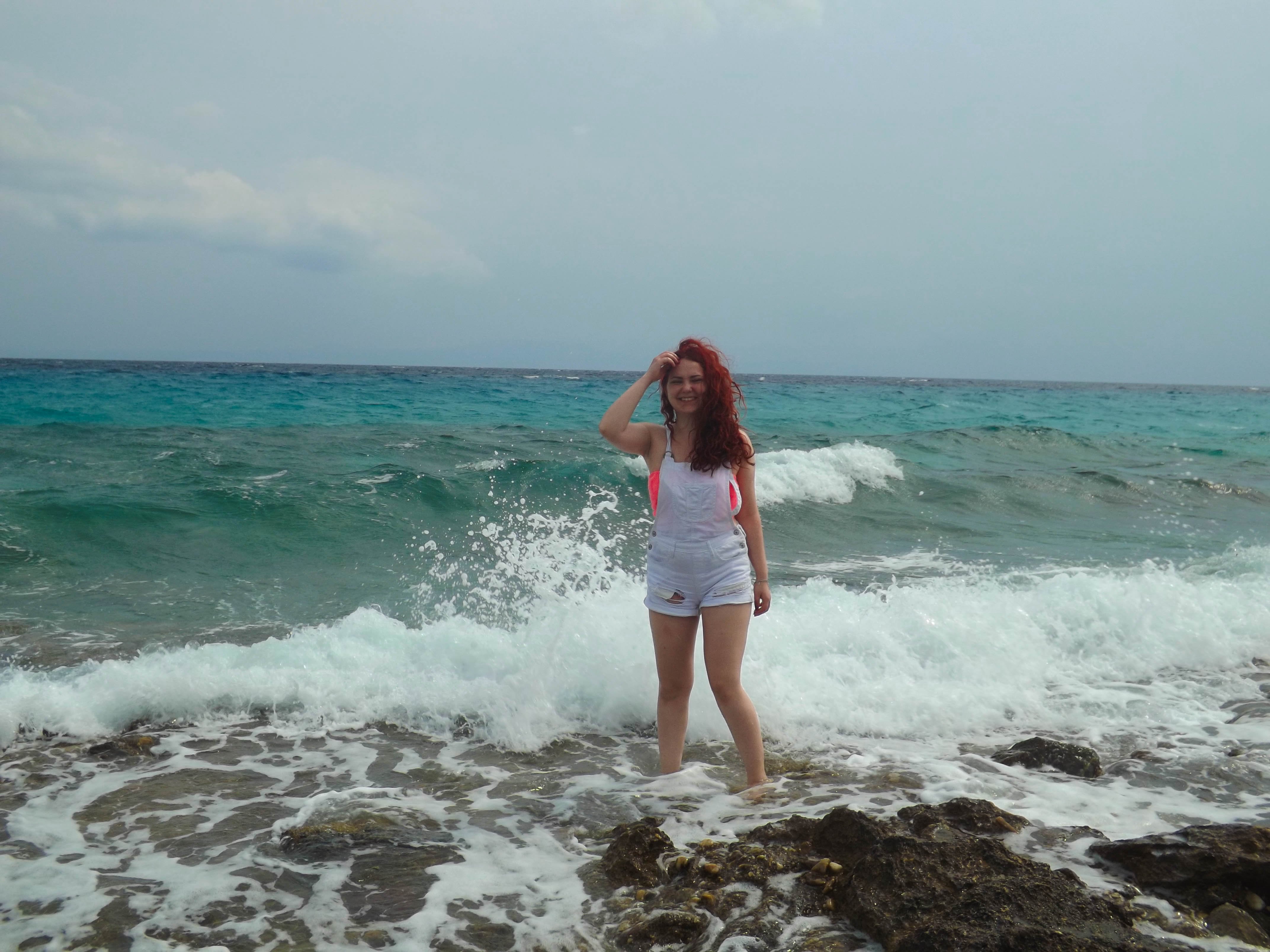 With the passing of the time I got used to the temperature and it even became relaxing. I got so much guts that I even went into the water and I struggled a bit with the waves.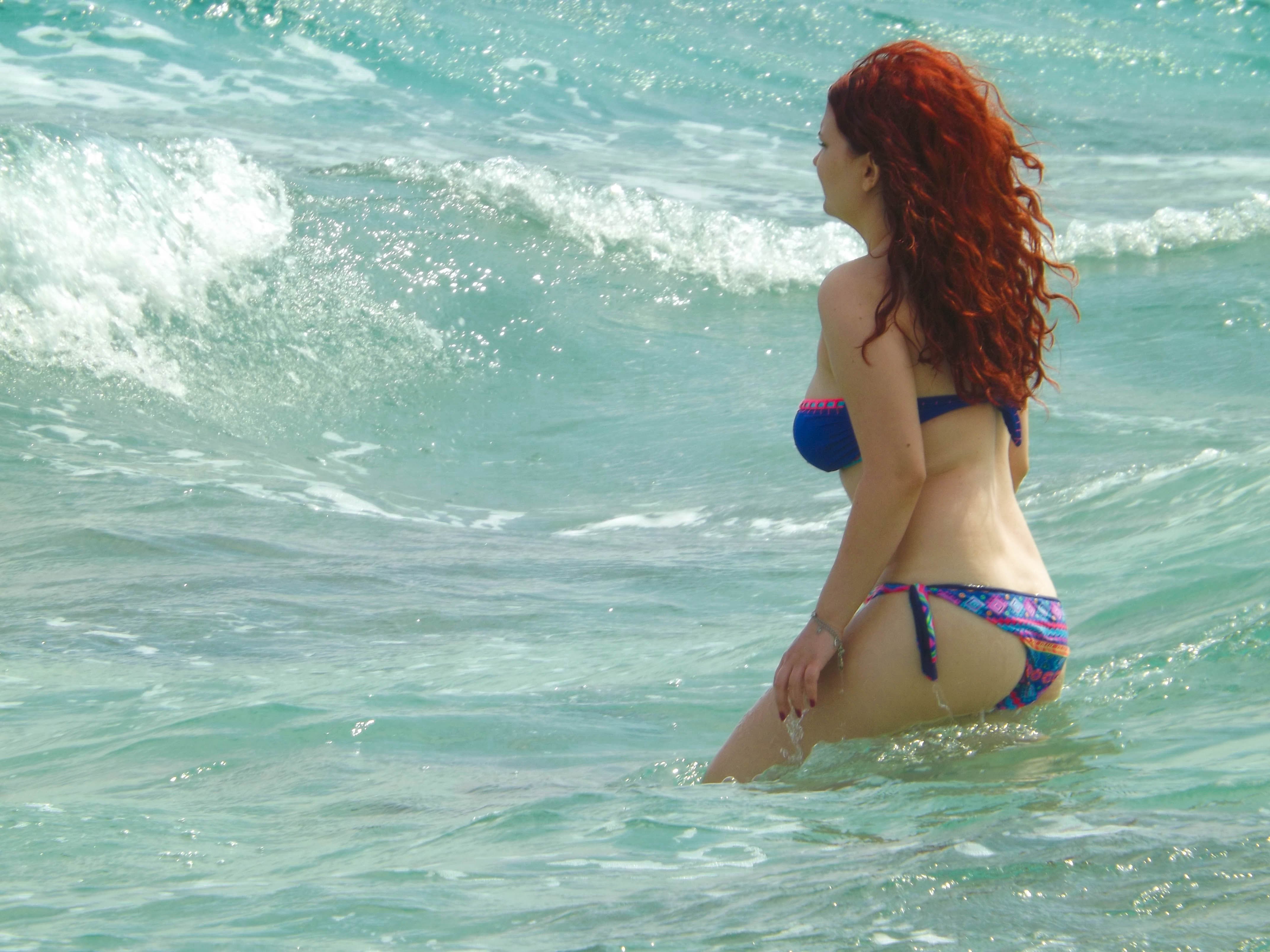 I calmed down after I fell and I hit a sea urchin. 5 minutes later, a bee started to give me the prowl. Even if she got out of my sight, it seems that she had a wicked plan. She was inside my arm and when I let it down, all of her needles entered my arm. I almost screamed in pain.
So I almost ceased altogether. There were already too many signs. My series of mishaps had just been triggered. But that does not mean I had to be lazy. So we started to gather stones on the beach and arrange them in the letters of steemit.com. While washing the stones in the water I could see people passing and threw a look at what we were writing. : D We managed to do it quite large and it looked great on the beach. I was proud of us.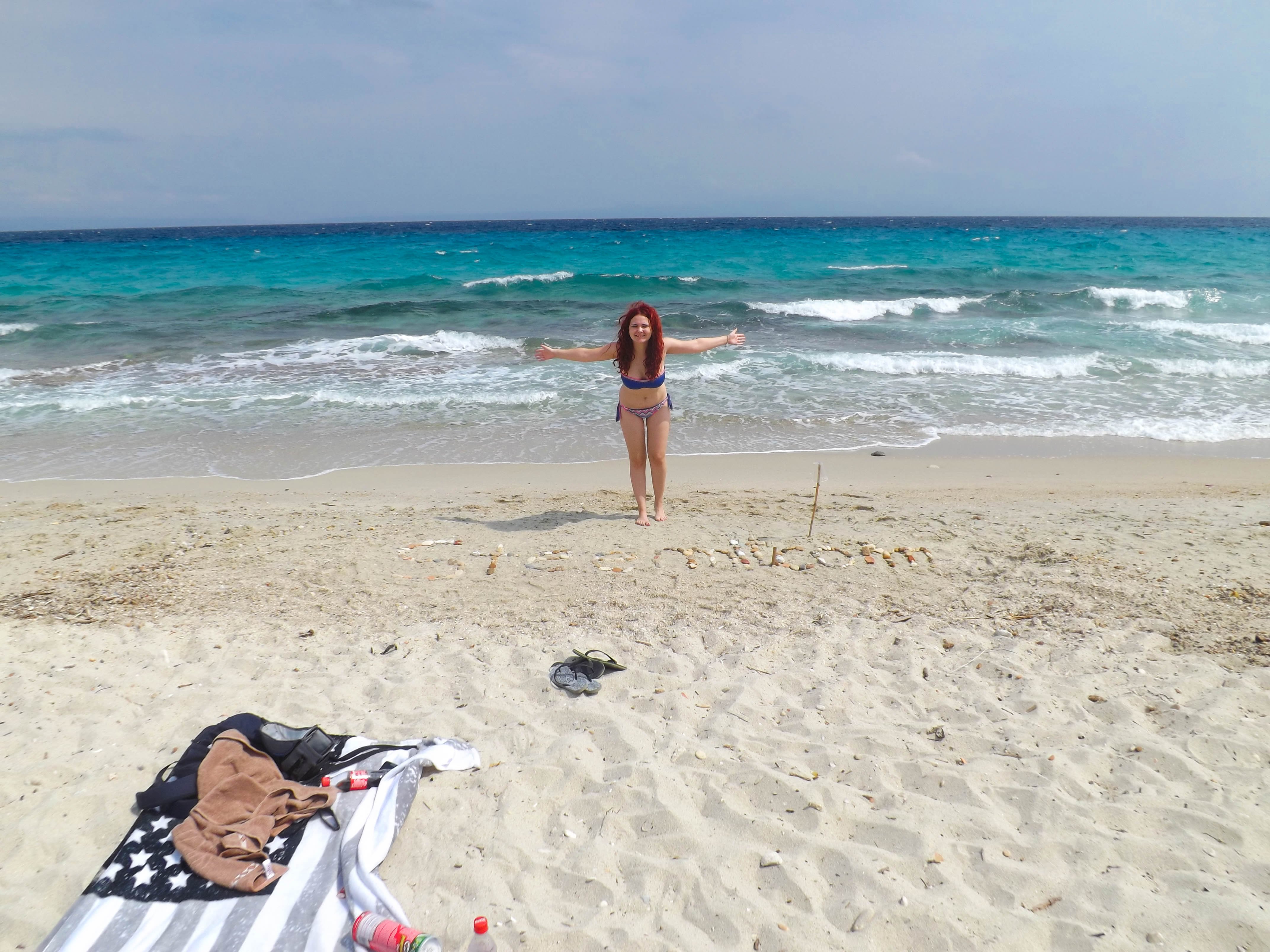 And to complete the day, I started to write the most important things that happened on vacation, in case I forgot any details. Much of yesterday and the day before, the articles were written based on those notes. 😀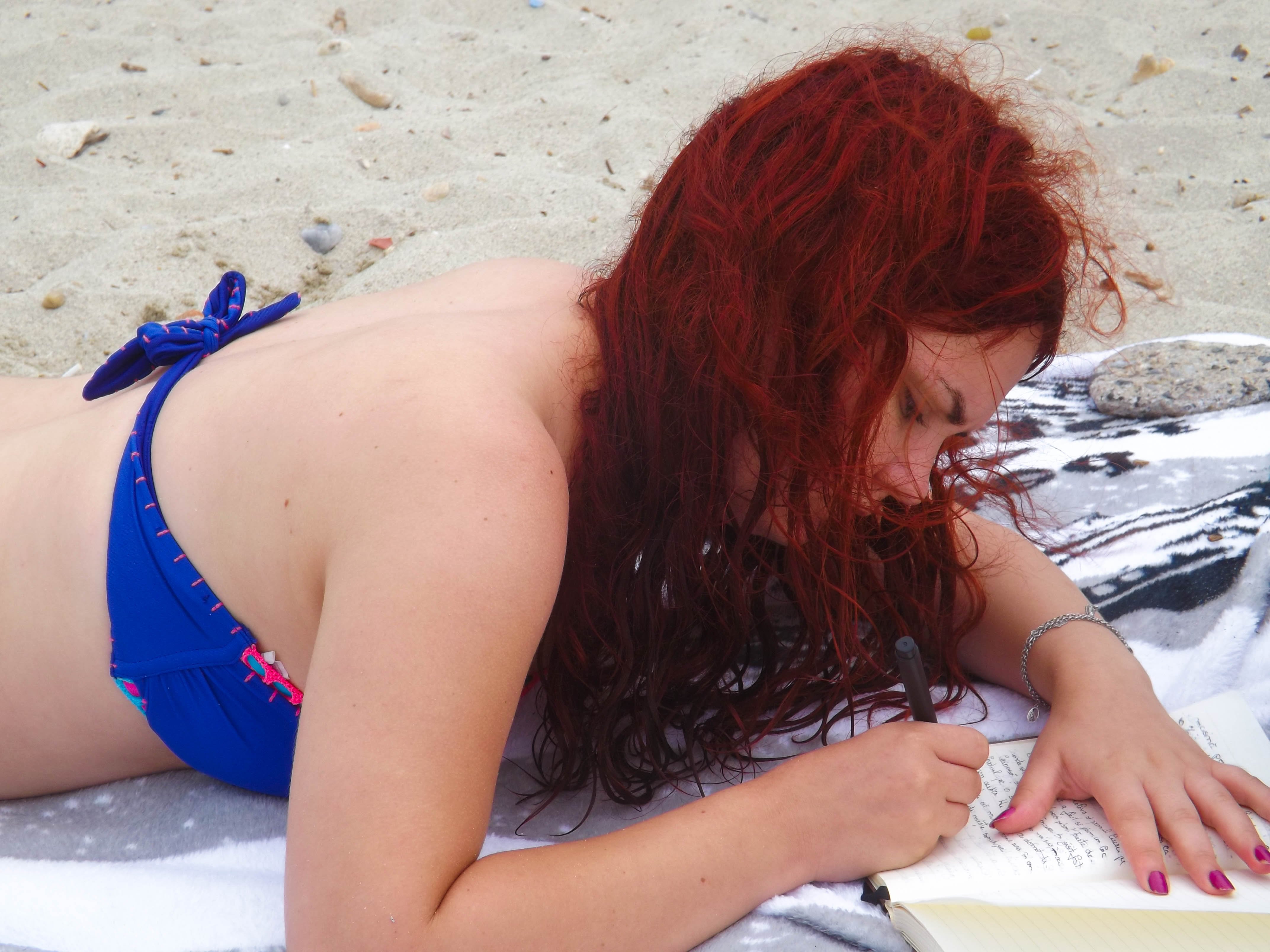 I soon gave up, it was clear that the sun would not appear and anyway it was increasingly colder, and the wind was becoming stronger. We went first to eat . While we were undecided and walked the streets of the downtown, a gentleman from the restaurant saw us from a distance, smiled widely and invited us to eat at their place. Charismatic, but that's not the reason why we stopped. They had a wide range of food and all seemed delicious. And guess what! They had a special menu for the Romanians, the dishes were written in Romanian.
We decided to order meatballs in sauce. First I asked for moussaka, but they did not have it. Both meatballs in sauce and moussaka are dishes that I cook at home. I was likely missing the food in Romania .:D
It was brilliantly delicious! So good that I ate everything on my plate. I have a bad habit of not finishing everything on my plate. It seems that my appetite ends right before the last sip. But that didn't happen this time.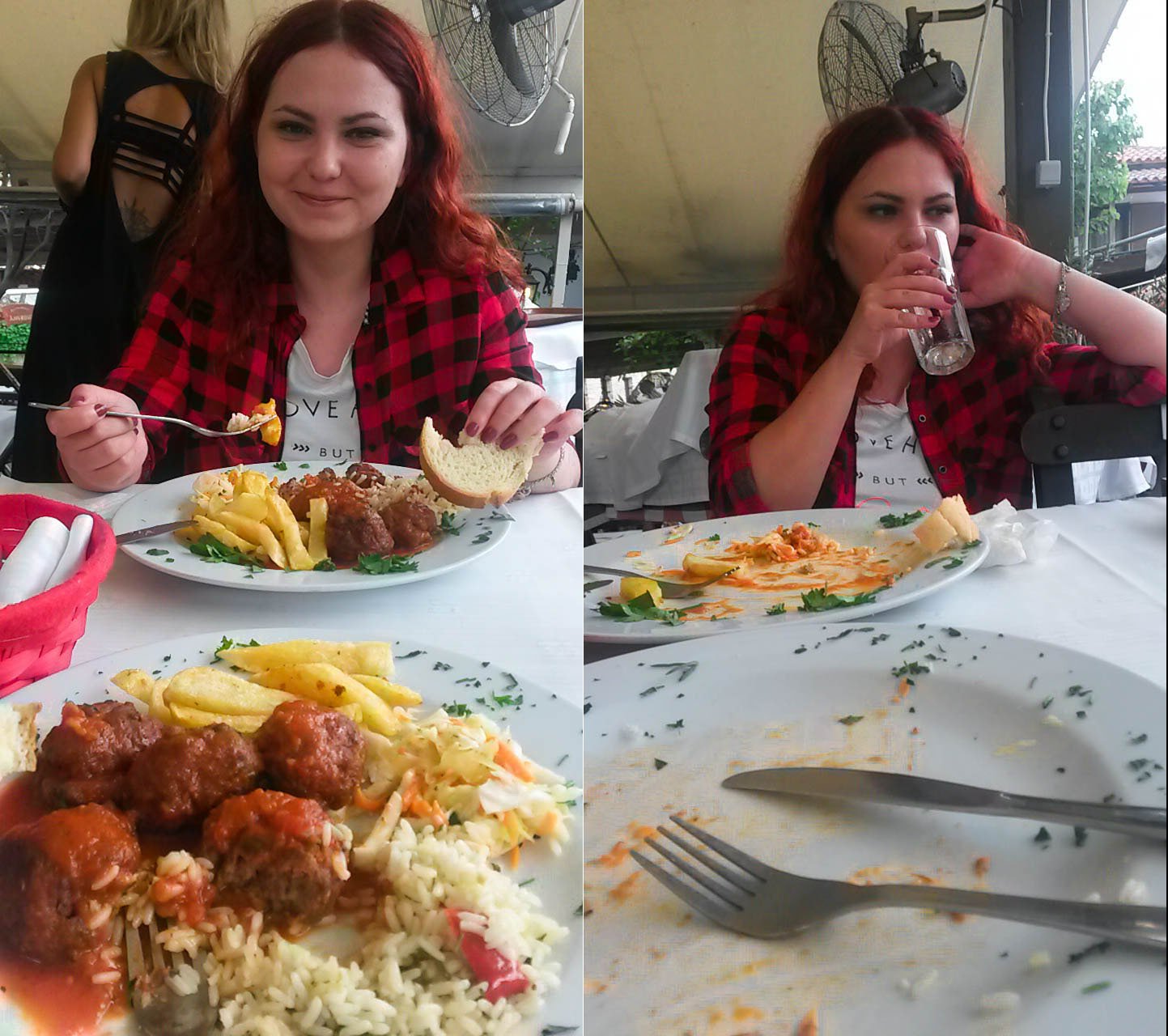 After eating, Mr. from earlier came to our table all smile and asked us if we wanted to have a drink with him. Well, we had other plans. We went to one of the lowest points on the peninsula.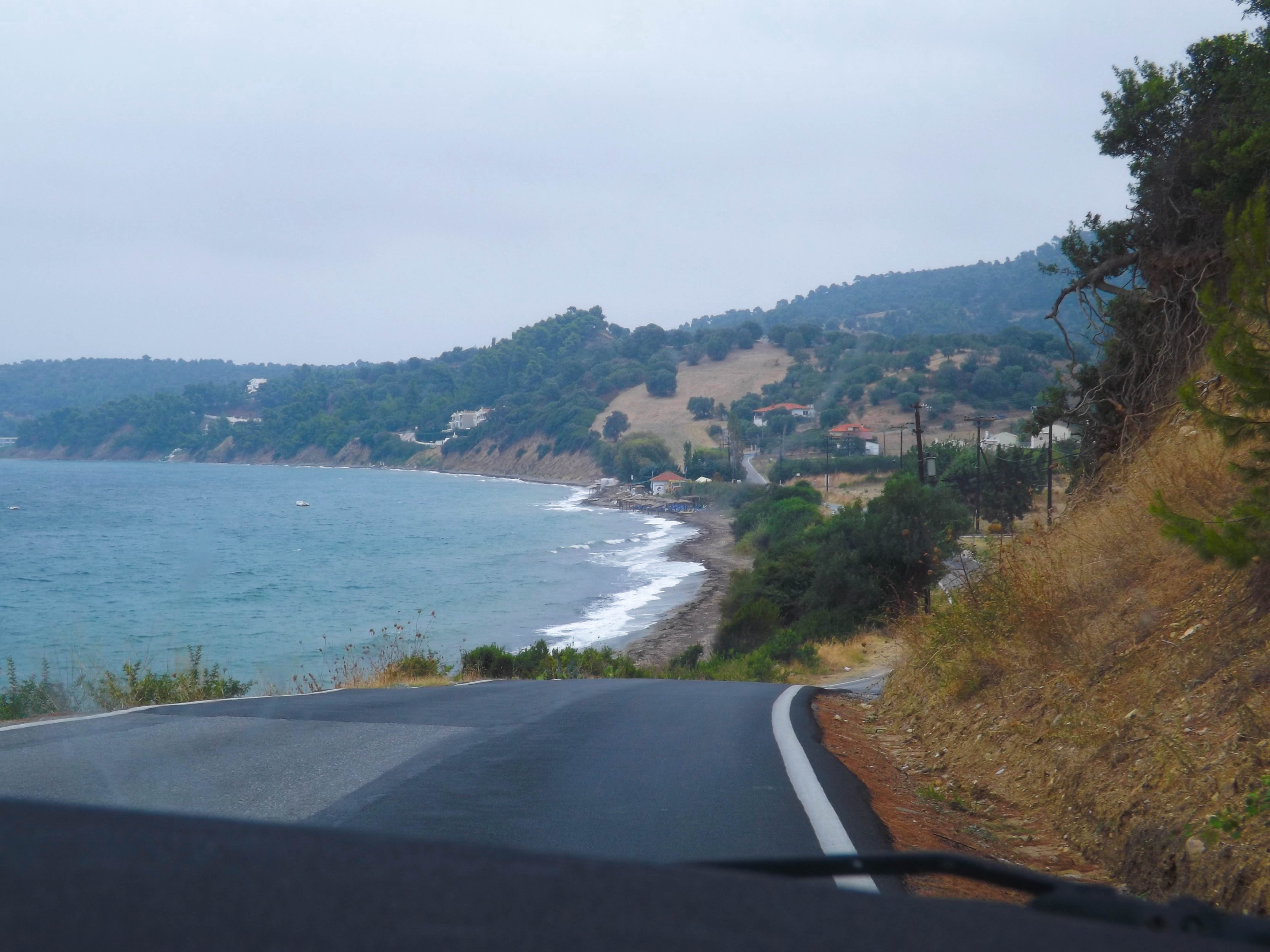 The weather was still bad, so it was a new way to enjoy the day. Plus there were still beautiful landscapes.
On the way, we stopped at a bar that seemed taken out from a movie. It made you feel good just by looking at it. Plus I found out in what direction were the most important cities, including Bucharest, obviously. 😀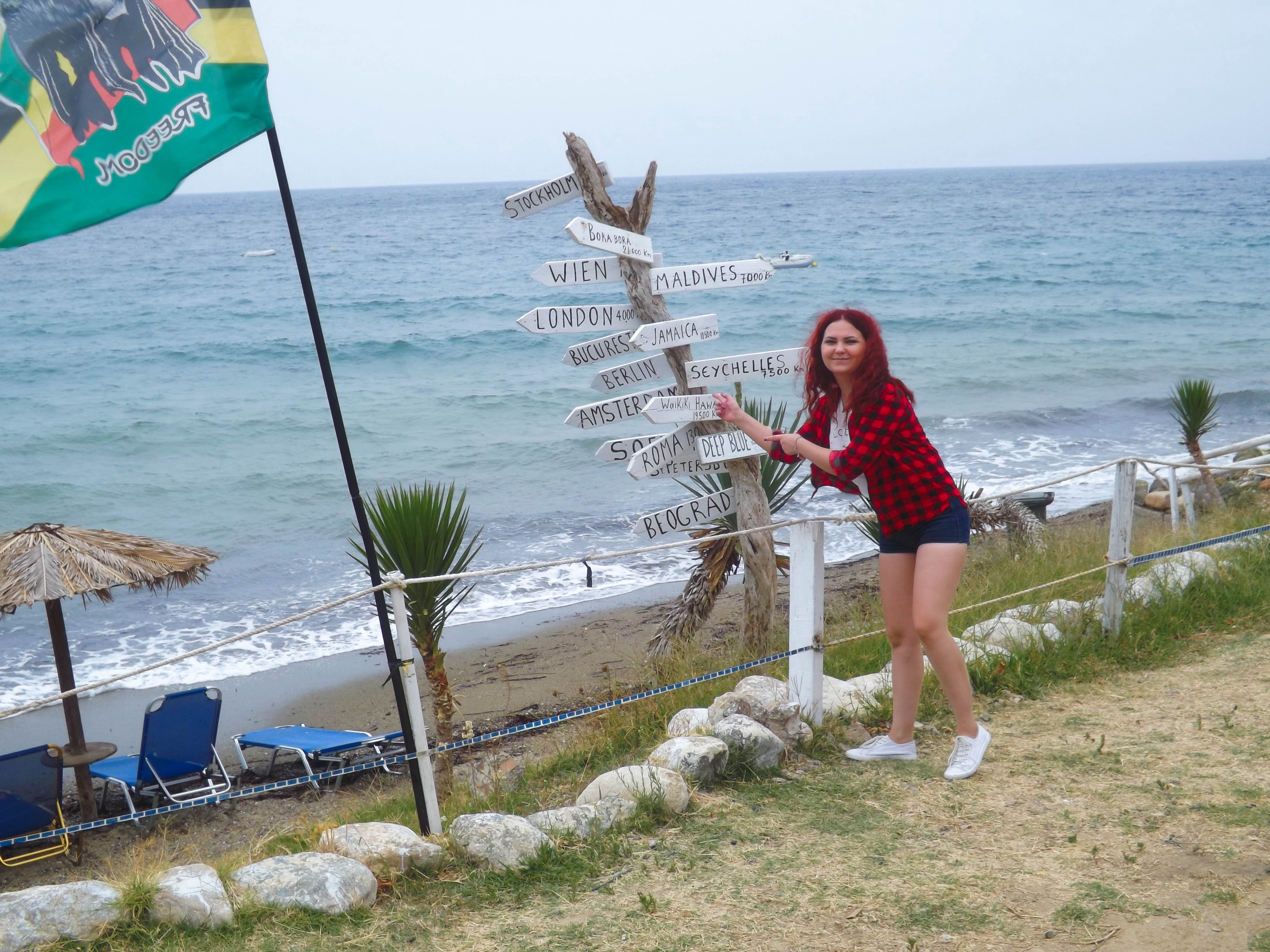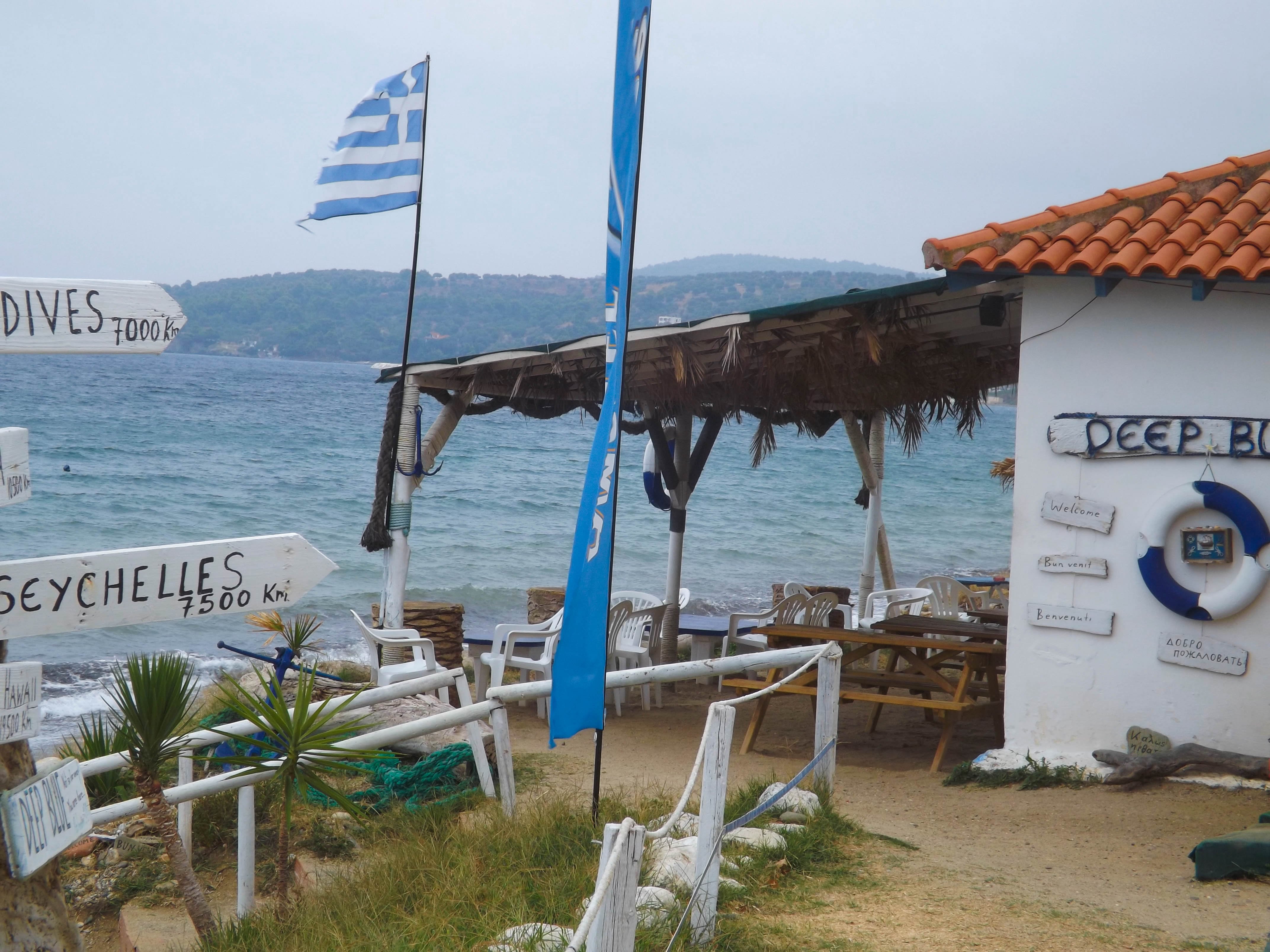 But we have not reached where we wanted originally, because we missed a street and got on a private land. I think it was a hotel, but a huge one, which had golf, plus many other facilities. It even had a dedicated port. It was so private that at the entrance a guard appeared and blocked our way. His attitude was quite hard, which gave us food for thought. On the way back we started to build a series of conspiratorial theories.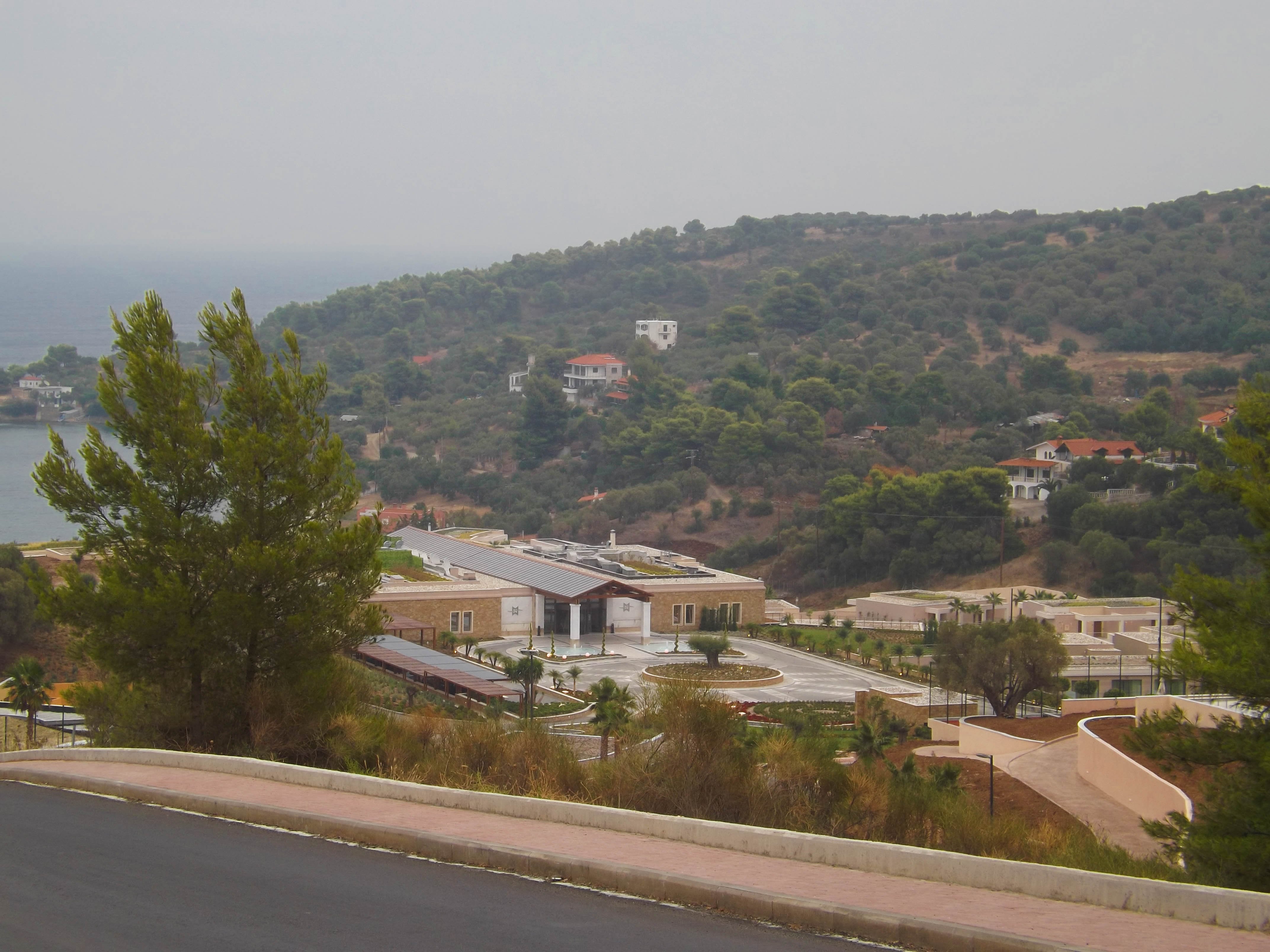 But, I still managed to take a picture of the lowest point of the peninsula. 😀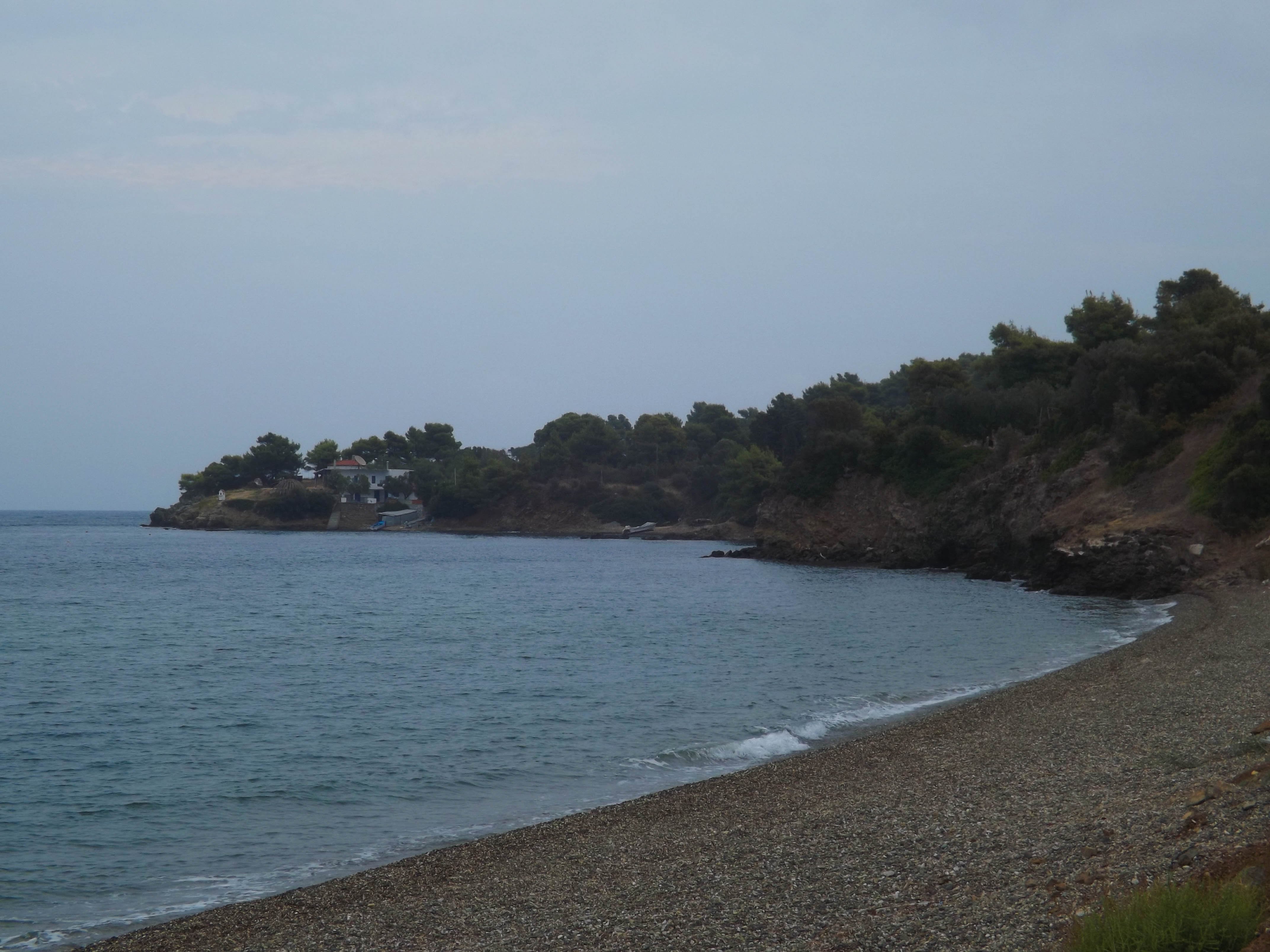 Before we returned to the studio, we stopped at the supermarket, we bought food to survive on the road back to Romania, and then we passed through the center to buy two gyros. That night we watched "The Purge ". I did not even resist until the end, because I fell asleep, although I really struggled to stay awake.
The next day I drank my coffee and left on the road. We were relaxed, Alex was driving quiet, he 's not the type to run with speed. GPS was near, sandwiches were good, the music was loud and occasionally the sun popped up. All seemed good.
Just that in a curve on a mountain, a truck thought that his part of the street was not enough, and he decided to go on our own. Alex put the brake, but the asphalt was wet and we also caught some gravel, so we lost control and were about ready to enter into a van, which was behind the truck. In that moment I saw death with my own eyes. You cannot imagine how happy I am that we are alive. On both sides of the curve were trees and ravines, and after the curve, where we stopped, were mountains of stone. Our luck was that Alex had good reflexes, and revolved in a curve to mitigate and restore the car to control. Luck was also the fact that after the van other cars had not passed.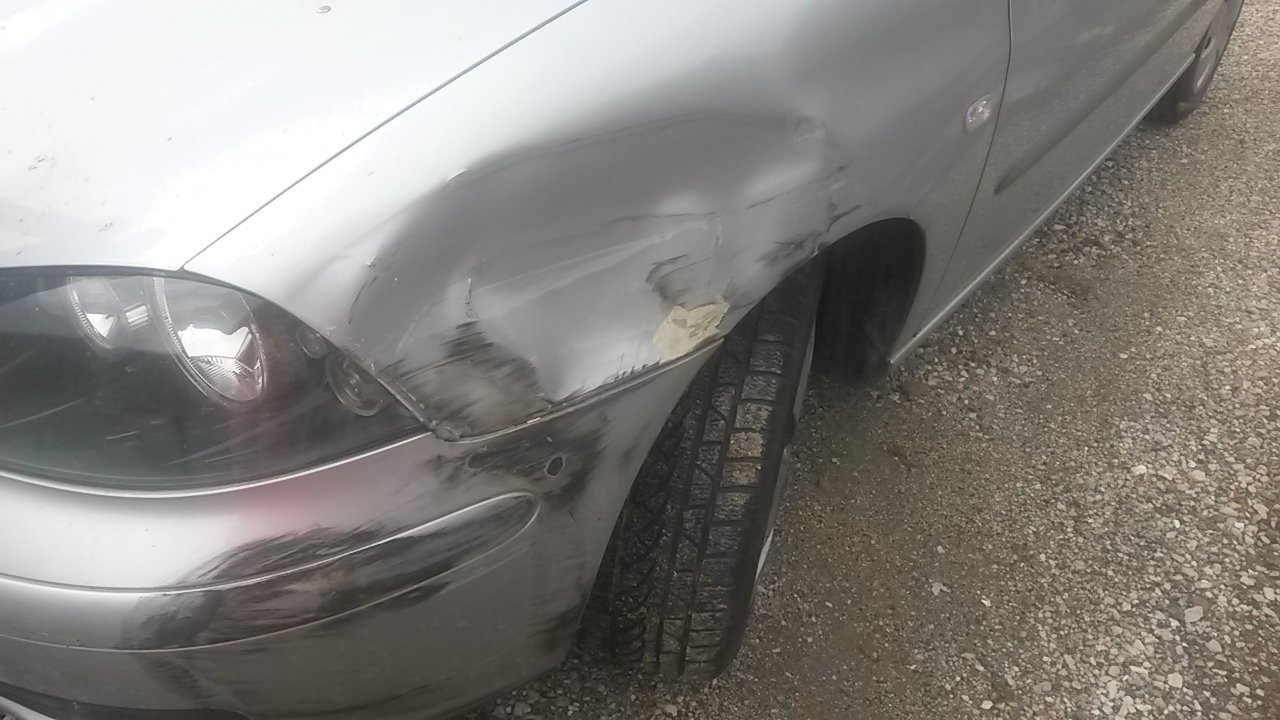 Clearly, I was in shock. We got off the car, both we and those in the van. They were Greeks, locals from a town near. We were all right, perfectly unharmed, but scared. They had no damage to the car apart from a scratch. But they called the police, we gave them our assurance and, at the same time, we have received evidence of the accident, which we used later in Bulgary when two policemen asked us about the crash.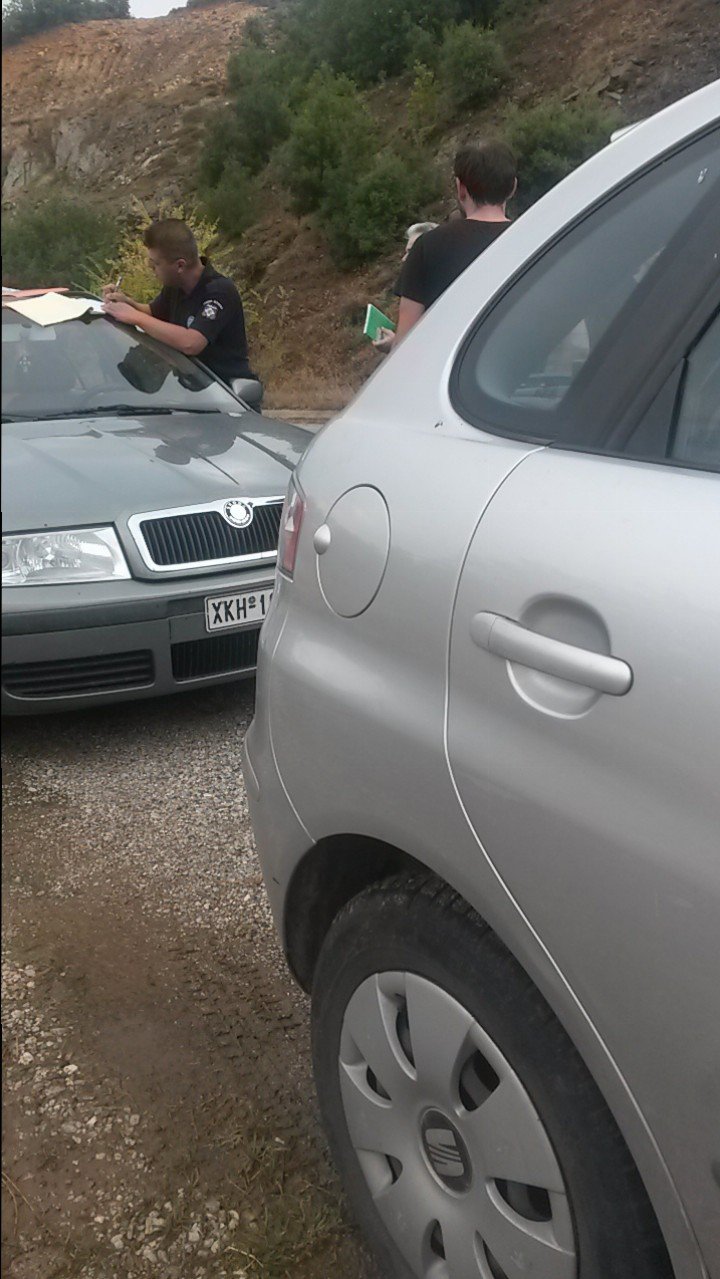 We stayed at the crash site for 2 hours and that's when we had the longest conversation with a Greek. Greeks are really nice people. Even the policeman was nice. I was beginning to think that if the two detectives from Kavala were still checking our footsteps, then they might say, " God, what an unlucky couple ". It now seemed possible to get known throughout Greece as the most unlucky couple.
The rest of the journey went back to the normal track , and the next day we got home. We kept our positive vibes and we still believe that this was the coolest and craziest trip ever.